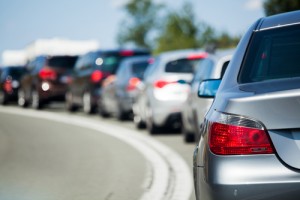 Driving in America: It's a task almost universally reviled by those with hour-long commutes, practically a right-of-way to adulthood, a pastime romanticized in films, and – maybe – a soon extinct activity? Ever since Google debuted the driverless car, people have questioned whether the technology could actually succeed. Now that companies are testing driverless cars out on the open road, the questions have shifted to liability. How will human drivers, driverless car companies, software companies, and insurance companies navigate liability in the event of an accident? Will driverless car companies go bankrupt from product liability lawsuits when the car makes a fatal decision and the human sits idly by?
Earlier this year, a group of researchers based at the University of Virginia found that they could remotely hack into the control system of a driverless car. The Department of Defense funded the research to combat potential cyber-attacks on remote vehicle systems. The researchers were able to easily control automatic braking, acceleration, and other automatic features of the car. They concluded, however, that preventing remote hacking could be inexpensive for manufacturers.
Despite the potential for disaster, reports on driverless cars have been overwhelmingly positive. Researchers predict that removing human error and emotion from driving could reduce the number of fatal traffic accidents by 90%. Science Alert reported that four of the 48 driverless cars in California had been in accidents over the past six months, though it was a human at fault in all four accidents[1].
Manufacturers and sellers of driverless cars can expect an initial influx of product liability lawsuits, especially those based on design defect. Indeed, Volvo just recently accepted liability for an accident involving one of its driverless vehicles.  Not surprising, legislation passed in California and other states mandates that driverless car manufacturers to obtain a minimum of $5 million in liability insurance.  Preventing lawsuits that will hit or exceed this liability limit will take diligence and foresight on the part of the manufacturers to anticipate shifting regulations, develop responsive compliance programs, and otherwise ensure efficacy and completeness of safety testing.  Defending against strict liability claims once filed will require a showing that all possible care was taken to ensure the safety of the vehicle and efficacy of the remote operating system.  Critical to this defense, as foreshadowed by suits against remote operated airplane and watercraft manufacturers, will be whether the remote driving system caused the incident.
As a result, manufacturers' potential liability will have a direct interplay with the operator's conduct. Even though an operator may not be controlling the driverless car, he/she may fail to properly repair or maintain the product, or otherwise take over the controls when an obviously dangerous situation occurs. Owner/operator negligence and product misuse is the likely crux of the liability question.   Indeed, there are a number of legal decisions in the aviation industry involving claims where a combination of pilot error and equipment malfunction have been alleged.  These cases ordinarily fail due to a lack of evidence that the remote pilot system, as opposed to human pilot error, caused the crash.
Accidents between human drivers and robotic drivers are inevitable. Manufacturers of driverless vehicles would be well served to proactively engage with legislators to guard against regulations that may eliminate evidence in the name of privacy required to defeat product liability claims.
---
[1] http://www.sciencealert.com/driverless-cars-could-reduce-traffic-fatalities-by-up-to-90-says-report