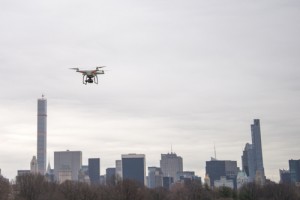 Practically every day there are media reports of Unmanned Aircraft Systems (UAS), commonly referred to as drones, making unfortunate landings at concerts, parades and sporting events.  In October of 2014, Albania was awarded a victory in a European Championship soccer match against Serbia when a drone flying an Albania banner flew into the stadium, interrupting play and resulting in an ugly brawl between Serbian and Albanian fans and players.  In May of this year, singer Enrique Iglesias attempted to grab a drone at a concert in Tijuana and suffered serious hand lacerations.  Just this June, a woman at a parade in Seattle was knocked unconscious when a two (2) pound drone ricocheted off of a building and struck her in the head.  Less than two weeks ago a drone flew into in the National Tennis Center in New York during a US Open quarter-final match featuring top seed, Serena Williams.  The drone crashed into the seating area interrupting play.  In addition to these publicized events, the FAA receives an average of 25 reports per month for near misses between drones and aircraft.
Federal regulation of drones has languished despite exponential growth of commercial and hobby drone use.  As of 2015, twenty-six states have enacted laws addressing drone use.  Most of these regulations however target privacy concerns leaving the more detailed regulation of operational and operator limitations of drones to the FAA. Formal litigation to date has thus been limited, in part due to lack of available information and governing regulations.
Currently, the FAA generally prohibits the use of drones for commercial purposes except in cases where exemptions have been awarded for specific activities, such as firms conducting agricultural, real estate, film and construction activities.  While the FAA in February proposed a Rule that would allow the commercial operation of drones under 55 pounds to fly under specific circumstances during the day as long as other standards are met, the final rule will likely not be issued until late 2016.  Individuals are also permitted to fly drones as a hobby as long as they remain under 400 feet and in areas not around airports.  However as herein noted, the adherence to these rules leaves much to be desired.
Given this failure to abide by what regulations the FAA has passed and will soon pass, litigation may follow.  Likely target defendants will not be limited to drone operators, but may also include drone manufacturers and sellers.  Product designers, manufacturers and distributers' liability for harm caused by their products has been a fundamental aspect of American torts for more than a century. Likely claims against drone manufacturers and sellers could include design defect, manufacturing defect, failure to warn, and negligent entrustment.
Within the strict liability framework there exist several ways to minimize risk and exposure.  Manufacturers need to make sure their drones are equipped with adequate warnings or operating manuals and stay current on novel design standards.  Likewise, software engineers should continually consider incorporating innovative technology such as anti-collision systems for "lost-link" situations where the operator loses radio contact with the drone, or immediate engine and propeller shut off in the event of a collision.
Incidents like those described earlier will continue to grow, and litigation will inevitably follow in the near future. Presently little case law exists addressing drone accidents, but as drone use continues to grow expect case law to develop at a rapid pace.