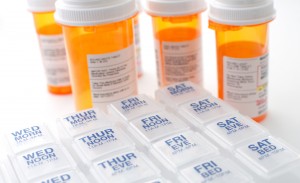 The New Jersey Supreme Court ruled on August 22 that consumers' state-law claims that manufacturers of a generic Reglan, a heartburn medication, did not adequately warn about its risks are not preempted by federal law.[1]
Under the Federal Food, Drug, and Cosmetic Act, manufacturers of brand-name drugs must seek approval from the FDA to market the drug and must prove that it is safe and effective and that its proposed label is accurate and adequate. Generic drug manufacturers, however, face a more streamlined process: they can gain FDA approval of a generic drug simply by showing it is identical in active ingredients, safety, and efficacy to a brand-name drug that has already been approved. Similarly, the brand-name manufacturer is responsible for the accuracy and adequacy of a drug's labeling for new drug applications and updated labeling, while generic manufacturers are responsible for ensuring that the labeling is the same as the labeling approved for the brand-name drug.
When it comes to matching an updated label, generic manufacturers are required to update their labeling at the "very earliest time possible."[2] Generic manufacturers must therefore routinely monitor the FDA's website for information on changes in labeling and/or obtain the information in other ways, such as from the FOIA staff at the FDA.
The New Jersey decision addresses Reglan, the brand-name drug known generically as metoclopramide. In 1980, the brand-name manufacturer of Reglan obtained approval from the FDA to market metoclopramide tablets. Research revealed adverse effects for those taking metoclopramide long-term. Specifically, it was discovered that long-term use led to the development of tardive dyskinesia, a severe neurological disorder. Thus, in 2004, the FDA approved new labeling warnings about the dangers of using metoclopramide for more than 12 weeks. The plaintiffs in the In re: Reglan Litigation used the generic drug, the labels of which did not match the FDA-approved brand-name labeling, and as a result took metoclopramide beyond the prescribed period, allegedly causing them to develop tardive dyskinesia.
The action initiated as nearly 1,000 individual lawsuits were filed in state court against over 50 brand-name and generic manufacturers, including, for example, PLIVA, Inc., Teva Pharmaceuticals USA, Inc., and Watson Laboratories, Inc. The New Jersey Supreme Court consolidated the individual cases. The plaintiffs' claims are based on failure to revise the labels to match the 2004 approved warnings.
Defendant Teva claimed to have updated its labeling one year after the warnings were revised. Other defendants claimed they changed their label within one and one-half years. PLIVA claims it was not informed of the update and so did not update its label until the end of 2008 – four and one-half years later.
The manufacturers argued that United States Supreme Court's decision in Pliva v. Mensing meant that federal law preempted the plaintiffs' state-law claims.[3] The Court in Mensing explained that, because federal law requires generic drug manufacturers to provide the same warning labels as those provided by the brand-name manufacturer, federal law preempted state-law claims against generic drug manufacturers for failing to provide warnings that exceeded those on brand-name labels. In that case, federal preemption applied because in order to comply with state law, generic manufacturers would violate federal law.
In its opinion, the New Jersey Supreme Court in the Reglan Litigation addressed the issue of whether, under Mensing, "a state-law failure-to-warn claim is preempted when a generic drug manufacturer gives warnings that are outdated and inferior to the manufacturer's brand-name warnings approved by the FDA." It ruled that such state-law claims are not preempted.
Notably, the Court held that had defendants provided the same labeling as the brand-name manufacturers, they would have enjoyed a safe harbor. Because they failed to do so, the inadequate labeling, as alleged, breached a duty of care under the New Jersey Product Liability Act.[4] The distinction from Mensing was that the defendants here could have complied with both federal and state law by updating their labeling as to not violate the FDA's sameness requirement. As a matter of law, therefore, the plaintiffs' claims arise under state law.
Lawsuits based on the inadequate generic labeling of Reglan have arisen in numerous courts and jurisdictions, with generic manufacturers mostly failing to obtain federal preemption of state-law claims. Courts in Pennsylvania, Iowa, and California concluded that under Mensing,federal preemption did not apply. The United States Supreme Court has declined to hear the appeals. The Sixth Circuit has also ruled the claims are not preempted under Mensing, even though the Fifth Circuit ruled in 2014 that generic manufacturers cannot be held liable for failing to update their labels to match FDA approved labels. The Fifth Circuit's ruling was based on the Supreme Court's decision in Mutual Pharmaceutical Co., Inc. v. Bartlett, in which the high court held that federal law preempts state­-law based design defect claims against generic manufacturers.[5]
The Reglan litigation offers a valuable lesson to all generic drug manufacturers. Federal preemption of state-law claims for failure to warn is not a given, even though manufacturers will be held to the strict standard of updating labels at the "very earliest time possible." If the defendants in the Reglan cases had updated their labels earlier, they would have enjoyed the safe harbor of pre-emption and would not have been subject to these extensive lawsuits. In order to enjoy a safe harbor, generic drug manufacturers must monitor labeling changes closely and update their labeling accordingly. Experienced counsel can advise about monitoring and label updating procedures.
---
[1] In Re: Reglan Litigation, No. 075269, New Jersey Supreme Court (Aug. 22, 2016).
[2] U.S. Dep't of Health & Hum. Servs., Food & Drug Admin., Ctr. for Drug Evaluation & Research, Guidance for Industry: Revising ANDA Labeling Following Revision of the RLD Labeling 5 (2000).
[3] PLIVA, Inc. v. Mensing, 564 U.S. 604 (2011).
[4] N.J.S.A. 2A:58C-1 to -11.
[5] Mutual Pharmaceutical Co., Inc. v. Bartlett, 133 S.Ct. 2466 (2013).